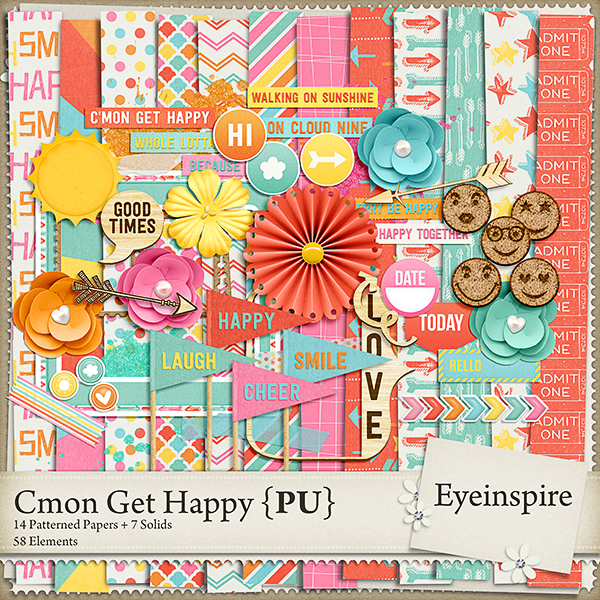 It's long overdue, but it finally happened and I could not be more happy! Eyeinspire received a major heave ho + facelift. Some of you may have noticed my old store being down the past month…. I was busy adding all the products from my old platform to my new one. Whew… what a task. It felt like I was adding products all year, as it turns out it was only 2 weeks.
The Designer's Vault is now ready and has launched this morning too! Don't know what that is? Head over to the Vault page and learn more. It is on sale now – Monday to celebrate my site launch and of course NSD. Speaking of NSD, it would not be complete without a sale right? Enjoy 50% off my shop all weekend long.
There are a couple of new goodies too! A new kit, C'mon Get Happy. Bold, bright, beautiful colors, super fab papers + fun elements. Why? I think we could all use a little more happy in our life.
And, a new CU pattern pack that I think you will just love. Fun Patterns 5 is super useful for any kit or layout. Best part, they are absolutely FREE. Download will be live at 12:00 AM EST as SHCo's blog hop. Awesome right?!
Last bit of news – I have 2 brand new texture grab bags available this weekend, exclusively at SHCo.
It's like getting extra texture packs for free! 🙂
That wraps up my news for now but be on the lookout for lots of new, exciting and fun things coming to Eyeinspire.
If anyone is looking to have their website redesigned, I highly recommend Lilac Creative. I could not be happier and say enough about Genevieve's awesomeness!
xo,
Rhonda