With the start of summer this week we have been having barbecues every night. I enjoy sitting at the fire pit, watching my husband Q up yummy steaks, hamburgers & hotdogs. This pasta salad is super easy to make and is a wonderful side dish with your summer grilling! Makes a perfect stand alone dinner or lunch too!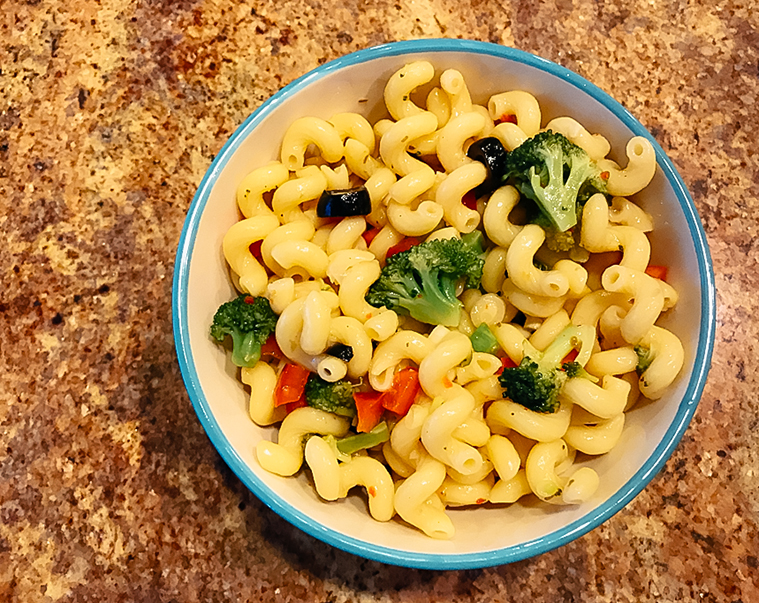 Easy Pasta Salad
Ingredients:
2 medium Bushels of Broccoli
1 Red Pepper
2 Bushels Green Onions
1 jar Baby Corn
1 small can of sliced black olives
4 Tbsp Capers
8 oz package of sharp cheddar cubed or fresh shredded parmesan
8 oz bottle of Zesty Italian Dressing
1 tsp Salt
16 oz package of elbow pasta or whatever shape you like
Cook pasta according to package.
While pasta is boiling, chop up all the veggies after thoroughly washing. Discarding the broccoli stalks.
Open your jar of baby cut them into bite sized pieces.
When your pasta has about one minute left to cook, throw your broccoli in the pot. It really brings out the green and is wonderful when just a tad cooked.
Rinse pasta and brccoli under cold water or drain and chill in the refrigerator depending on how much time you have.
Now it's just a matter of grabbing a nice big bowl and combining the pasta with broccoli, salt, peppers, onions, corn, olives, cheese & dressing. Stir and eat! Mmm So good.
If your a meat eater, I have found that Summer Sausage goes nicely with this dish. Just dice some up and throw it in!